Samsung announced its new Galaxy Buds true wireless earphones earlier this week, and they're obviously designed for Samsung's own Galaxy phones. (As a neat trick, you can even use the upcoming Galaxy S10 to
charge
the Galaxy Buds.) In design and price, though, Samsung is clearly attempting to make these little guys an attractive alternative to Apple's AirPods—perhaps even for iPhone users. So are they? We managed to get our hands on a pair of Galaxy Buds ahead of the March 7 release date, and I formed a few impressions of how well they work with an iPhone XS Max. In some cases, yes, they actually come out ahead. In others, they're a reminder that the AirPods are a far greater value than we often give them credit for.
Price
The Galaxy Buds cost $130 while Apple's AirPods cost $160. There's no contest here. If you merely want to save money, the Galaxy Buds are the clear winners. But that doesn't mean they're the best value.
The case
The Galaxy Buds case is both thicker and longer than the AirPods case. It's not a huge difference when you see them side by side on a table, but I definitely notice when I put the bigger Buds case in my pocket. The AirPods case has a definite advantage here. The Galaxy Buds case has a few advantages of its own. The biggest is that you can charge it wirelessly with any Qi-certified charger, and a small outside light informs you that the case is charging. You have to look at your iPhone's widgets to see the battery level of the AirPods case, although both have a light inside the case that reports whether the earpieces themselves are charged.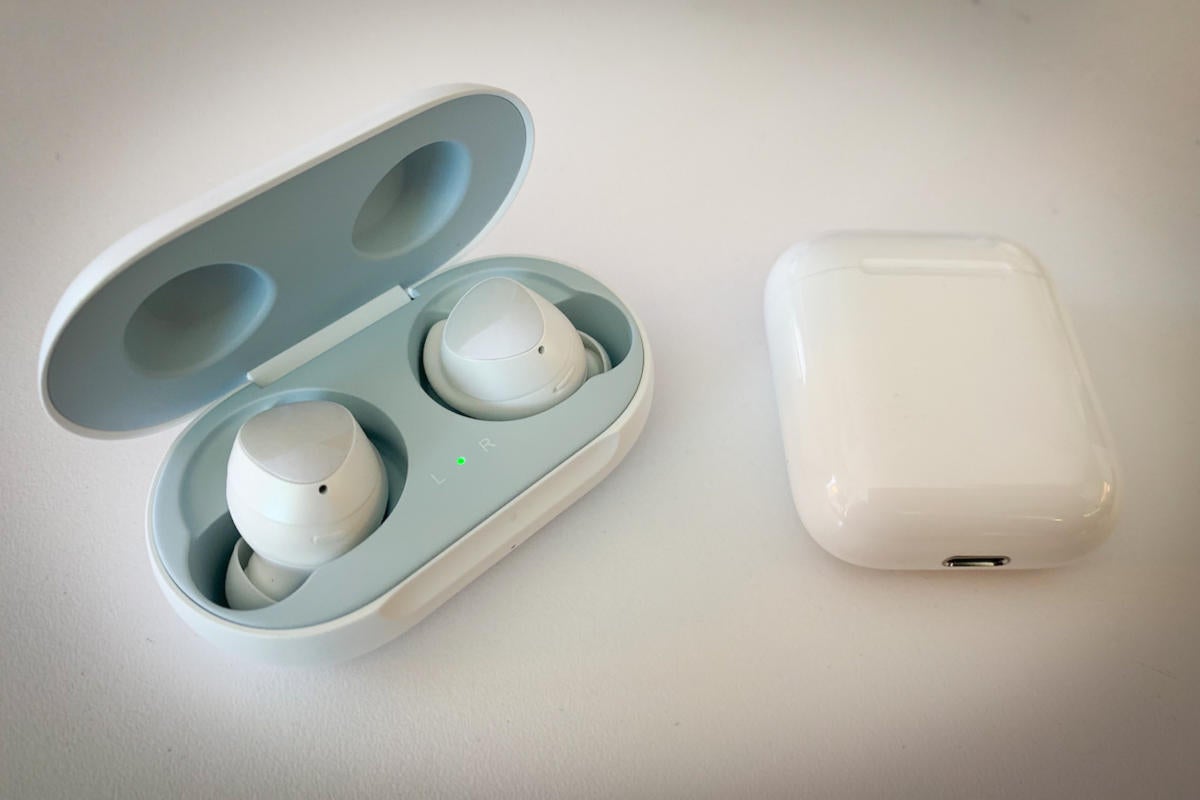 We'll supposedly see a new AirPods case that supports wireless charging later this year, but for now it remains in the realm of rumor. A wirelessly charging case is a definite plus for the Galaxy Buds, and I like that you can charge them with a USB-C cable if you wish. The AirPods still require Lightning cables. I admire the presentation of the Galaxy Buds in its case, but I find it's a lot easier to get to the AirPods when I need them. Forgive the analogy, but removing an AirPod is as easy as pulling a cigarette from its box. I'm still struggling to get a good grip on the Galaxy Buds when I remove them from the case, which makes me worry that I'll drop them if I'm trying to use them on a bumpy bus ride. Overall, the Galaxy Buds case probably comes out on top here because of the wireless charging, but it's a very close call.