In an average year, Apple holds three to four events. There's usually a spring event in March, the Worldwide Developers Conference in June, a September event that's focused on iPhone and Apple Watch, and sometimes an October event if there are iPads or Macs expected in the fall.
In this guide, we're keeping track of all of the Apple events that are on the horizon and what we're expecting to see at each one, so make sure to check back in regularly.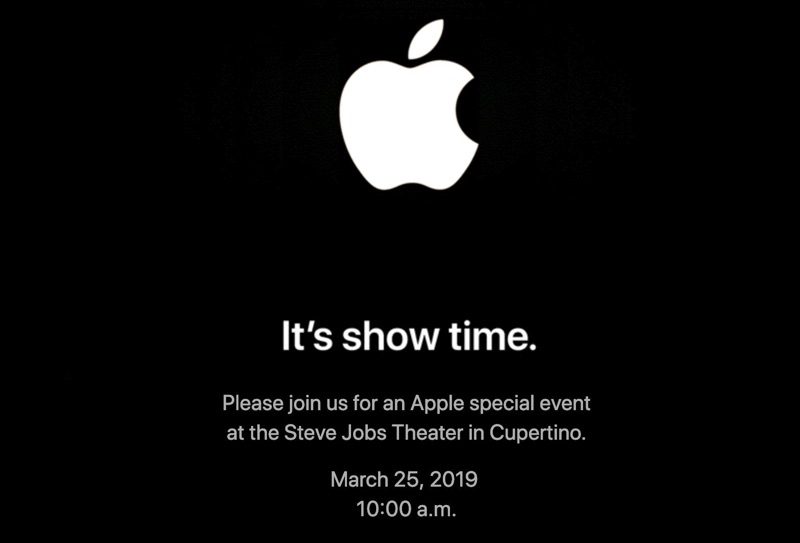 March 25 Event
Apple's first event of the year will take place on Monday, March 25. According to rumors, Apple plans to focus on services at this event, introducing both a new Apple News service and a TV service. Here's what we're expecting to see:
Apple News Service
Apple is working on a $9.99 per month subscription news service that would give Apple News users unlimited access to stories from paywalled sites like The Wall Street Journal. The service will also include a magazine element, similar to the service offered by Texture, the magazine app that Apple bought in 2018.
Not all news sites are on board (WaPo and NYT won't join) yet because Apple wants 50 percent of all subscription revenue, but magazine publishers are embracing Apple's plan. The news content and the magazines will all be accessible for a single subscription fee, thought to be $9.99 per month.
Streaming TV Service
Apple is also working on a streaming TV service that will include the more than two dozen TV shows and movies that it has in the works, along with access to subscription content from other cable providers.
Apple plans to allow its customers to sign up for services like Starz and Showtime right within the TV app, and the company could also provide channel bundles that aggregate content from multiple cable providers at a reduced price.
There's no word on what this service will cost, but Apple will introduce it at the March event before launching it later in the year, perhaps in summer or fall. Multiple celebrities like Jennifer Aniston, Steve Carell, and Jennifer Garner – who are starring in Apple's original television shows – have been invited to the event and are expected to attend.
iOS 12.2
The iOS 12.2 beta that's being tested right now already has hints of the Apple News service in it, and Apple is going to release the iOS 12.2 update right after the event takes place to give people access to the new Apple News subscription service.
Along with access to this subscription service, iOS 12.2 brings Apple News to Canada, offers new Animoji characters, includes HomeKit TV support for third-party TVs, and has dozens of other smaller tweaks and changes outlined in our iOS 12.2 tidbits post.
iOS 12.2 is also pre-installed on the new iPads that were just released, and the second-generation AirPods also require the update. Both of those products are shipping out to customers early next week.
Apple Pay
According to Bloomberg, Apple is planning to preview new Apple Pay features at its March 25 event that will lay the groundwork for an iPhone credit card partnership with Goldman Sachs. It's not entirely clear what new features Apple will announce, but there are updates to the design of the Wallet app in iOS 12.2 that Apple may be planning to highlight.
Rumors have suggested that the credit card that Apple is debuting in partnership with Goldman Sachs will have special features in the Wallet app unavailable to standard credit cards, such as budgeting tools, spending recommendations and limits, and more.
Hardware
We were expecting minor updates to a number of Apple products in the spring, which Apple started rolling out ahead of the March 25 event. So far, Apple has released an updated iPad mini, a new 10.5-inch iPad Air, refreshed iMacs, and AirPods 2. A seventh-generation iPod touch and the AirPower could still be coming sometime soon.
With Apple introducing hardware via press release ahead of the event, we aren't expecting to see any new hardware announcements at the event itself, but there's always the chance for a surprise.
Event Details
The March 25 event will take place at 10:00 a.m. Pacific Time (1:00 p.m. Eastern Time) at the Steve Jobs Theater on the Apple Park campus. Apple plans to live stream the event on its website and through the Events app on the Apple TV. MacRumors will be covering the event here on MacRumors.com and through our MacRumorsLive Twitter account.
This article, "March 2019 Apple Event: What to Expect" first appeared on MacRumors.com
Discuss this article in our forums