Need help deciding whether Apple or Google has the right music streaming service for you? Then keep reading. Apple Music launched in 2015 and was a relative latecomer to the streaming services market, but Apple's continual development of the platform has made it into one of the most popular choices for enjoying digital music. Google's music strategy on the other hand has been confusing in recent years, so before we dive in with a deeper look at the two streaming service rivals, here's a quick recap.

Google Music
Google launched its original Play Music streaming service in 2011. Like Apple Music, Play Music gives you access to a vast music library, music recommendations, radio stations, and offline listening, all for a monthly fee. In a unique contribution to the streaming services field, Google Play Music also lets all Google account holders (i.e. not just subscribers) upload up to 50,000 tracks from their existing music library to the cloud, for storage and online streaming.
In May 2017, Google launched an on-demand ad-supported music streaming service called YouTube Music, shortly followed by YouTube Music Premium – a revamped version of its ad-free YouTube Red subscription service with a renewed focus on original programming. The rebranded service includes personalized playlists, intelligent search, support for background playback on mobile and music downloads for offline listening. It also offers access to remixes, covers and live versions that aren't available on other platforms.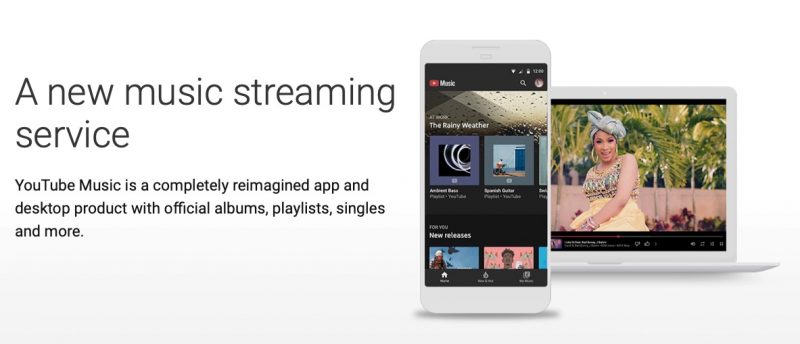 Initially Google said its new YouTube Music service would replace Google Play Music, and that existing subscribers would have their playlists, collections, and preferences migrated automatically. So far that hasn't happened, and although Google said last year that it plans to move Google Play Music subscribers over to YouTube Music at some point in 2019, it also insisted that nothing would change about Google Play Music "in the near future," and that still appears to be the case today.
At any rate, Google has said that it will give Play Music users plenty of notice when it does decide to make big changes, although it's worth keeping in mind that a migration to YouTube Music should be seen as inevitable for anyone who signs up to Google Play Music today. When that happens (i.e. when Google gets its music rights in order), the company says Play Music users "will continue to get the features they already enjoy at the same price they pay today."
Subscriptions and Plans
An individual Apple Music subscription costs $9.99 per month in the United States, with slight price variations in other countries and territories. Membership means you can stream Apple's music catalog, download music and videos for offline listening, and get exclusive access to new releases and exclusives, as well as a back catalog of shows broadcast on Apple's Beats 1 radio station.
A standard Google Play Music subscription also costs $9.99 per month. That gets you access to Google's music catalog, music recommendations, radio stations, offline listening, and access to YouTube Music Premium. (A subscription to YouTube Music Premium also costs $9.99 monthly.) An Apple Music student subscription costs $4.99 and requires you to sign up using your educational institution credentials. Google Play doesn't appear to offer an equivalent plan, although eligible students can subscribe to YouTube Music Premium for $4.99 a month.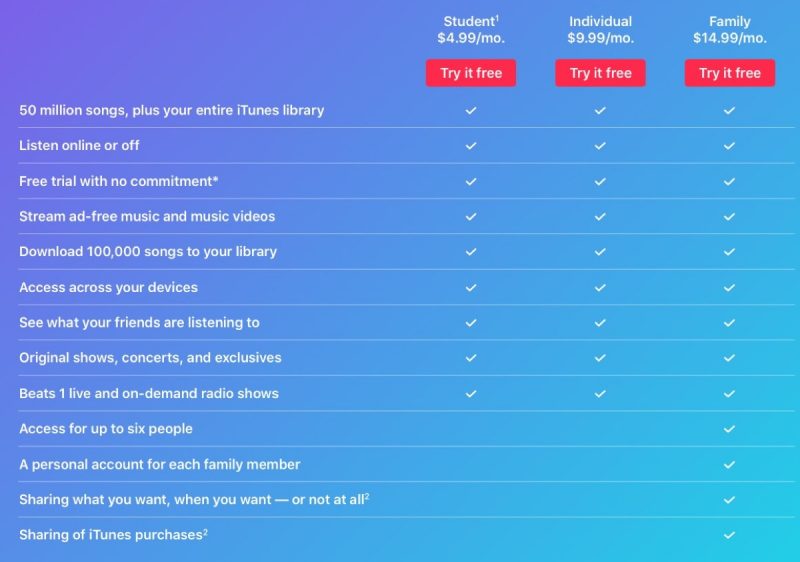 Apple Music membership plans
Apple Music's family plan costs $14.99 a month and allows up to six people to access the services using a personal account for each family member. Members can also share iTunes purchases with each other in addition to catalog content, but all family members must use the same credit card for App Store/iTunes purchases. Google also offers a $14.99 a month Play Music Family Plan. When you subscribe to the family plan, you and up to 5 family members can stream music on up to 10 devices each and share eligible purchased items on Google Play using Family Library. (Each family member still has separate Google Accounts, playlists, libraries, and offline content.)
Both Apple Music and Play Music memberships automatically renew each month, but you can cancel renewal at any time and your subscription will run out at the end of your current billing cycle.
Remember, even if you don't subscribe to Google Play Music, if you're a Google account holder you can still upload up to 50,000 songs from your own music library without paying any monthly fee at all.
Free Trials
Apple Music offers a free three-month trial of its paid service, which converts to a paid membership unless the user cancels before the trial period is over.

Google Play Music currently offers existing Google account holders a shorter 30-day free trial, which also becomes a paid membership if not canceled before the trial period. Having said that, Google also now offers all users a free three-month trial of YouTube Music Premium, which is probably the best way to get a taster of what Google's music offering will eventually become.
Libraries and Offline Listening
All paid Apple Music and Google Play Music plans give you access to a huge catalog of songs songs when you sign up. Apple Music boasts 50 million songs in its catalog, while Play Music subscribers get the pick of 40 million songs, so regardless of which one has the most content, both allow you to build up a large collection of music.

Apple Music users can download a maximum of 100,000 songs to their library, and thanks to Apple's iCloud Music Library feature these can be synced across devices signed in to the same Apple ID. Google Play music users can download as many songs, albums, and playlists as they want for offline listening (Google doesn't specify a maximum number).
Streaming quality
Apple Music streams 256kbps AAC files across the board, while Google Play Music users can select the streaming bitrate from low (198 kbps), normal (192 kbps), and high (320 kbps AAC) quality. YouTube Music currently appears to have a maximum bitrate of 128 kbps, but that's likely to improve in time.
Apart from audiophiles, most listeners probably won't notice much difference between the highest quality streams of the same song, but Google Play Music's option to select the bitrate can come in handy if you're worried about using up your cellular data.
Mobile, Desktop, and Web Apps
The Apple Music catalog is accessed from within the Music app, which has a clean white interface and comes pre-installed on every iPhone, iPad and iPod touch, and also is available as a separate downloadable app on Android devices. The mobile app is organized into tabs to access your music library, browse the Apple Music catalog, and listen to radio stations, while a "For You" tab lets you check out recommendations based on your listening preferences.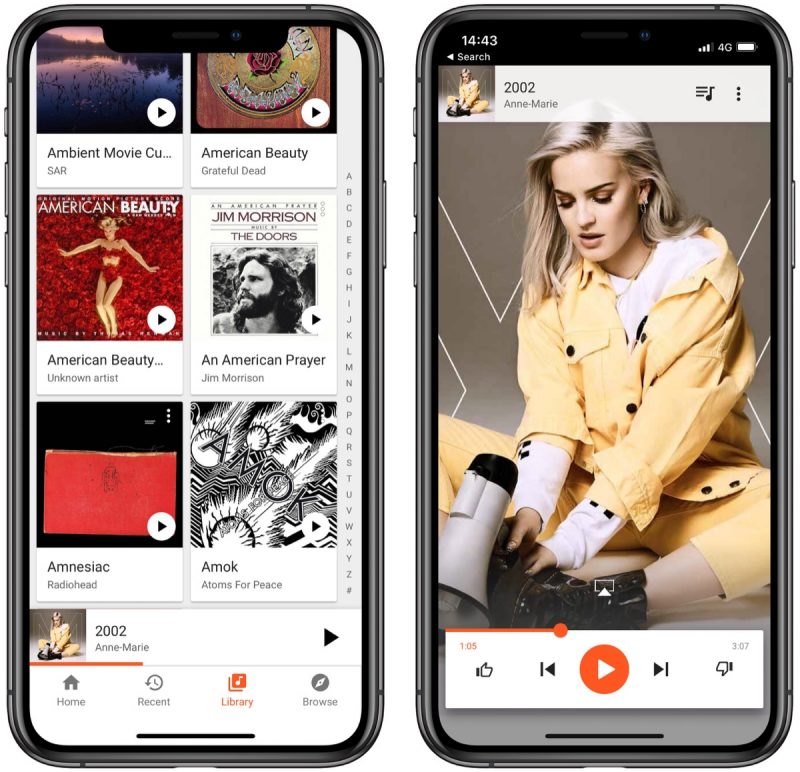 Google Play Music mobile app
The Google Play Music app, available on both iOS and Android, has a similar clean white interface, but a more minimalist feel to it, with tabs for accessing the Play Music catalog, your own music library, recently played content, and recommended listening.
Both apps are easy to navigate and include fullscreen media players that showcase album art as you listen. These screens also put add-to-playlist, sharing, song queuing, and audio device options at your fingertips. Users familiar with Gmail and other apps by Google should feel right at home in the Play Music app, although Apple's Music app has the advantage of 3D Touch support on compatible devices, which can be used to quickly access additional menus.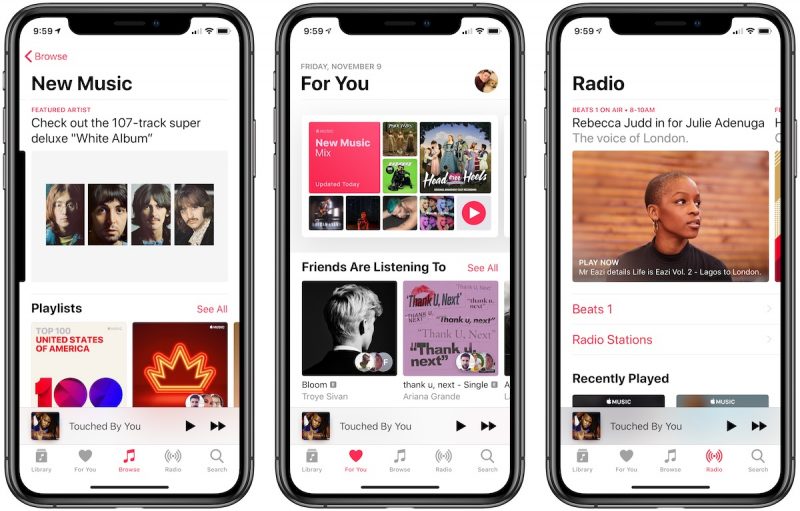 Apple Music mobile
Both apps allow you to add any existing music you own to your library, but offer different routes to achieving this. Google lets you sync up to 50,000 tracks from your computer using an upload client app or the web player, after which they become available for streaming from any device signed into your Play Music account. Apple Music uses iCloud Music Library to match any songs you have in iTunes to tracks in the Apple Music catalog, which are then made available on your other devices.
Apple Music in iTunes (available for PC and Mac) is largely based on the same format as the mobile app, but it's not quite as pretty. It's also a little less navigable, but it does have one trick up its sleeve: Smart Playlists. These can be automatically generated by iTunes based on genre, date added, loved/disliked, and so on, meaning you don't have to manually build playlists yourself if you don't want to. Apple doesn't offer a native player for web browsers, though third-party workaround service Musish lets you listen to Apple Music on the web.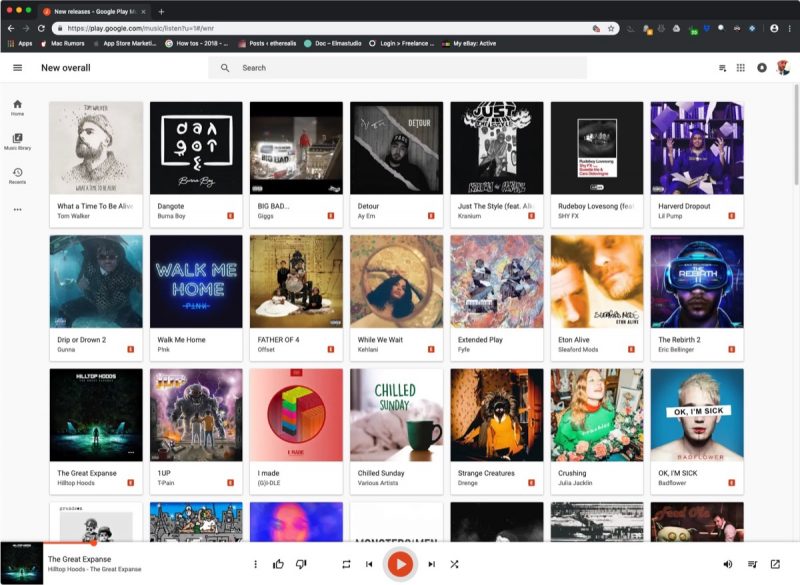 Google Play Music web player
Both YouTube Music and Google Play Music can be played through browsers on your Mac or PC, though neither service currently offers a desktop app.
Discovery Features
When you sign up for Apple Music, Apple asks you to select some of your favorite artists so that the service can get a sense of your tastes. Using this information, Apple Music populates its regularly updated "For You" section with new releases, daily mixes and playlists to appeal to your preferences. Playlists can take on a style (pop or jazz, for example), a particular artist, or even a particular activity like studying.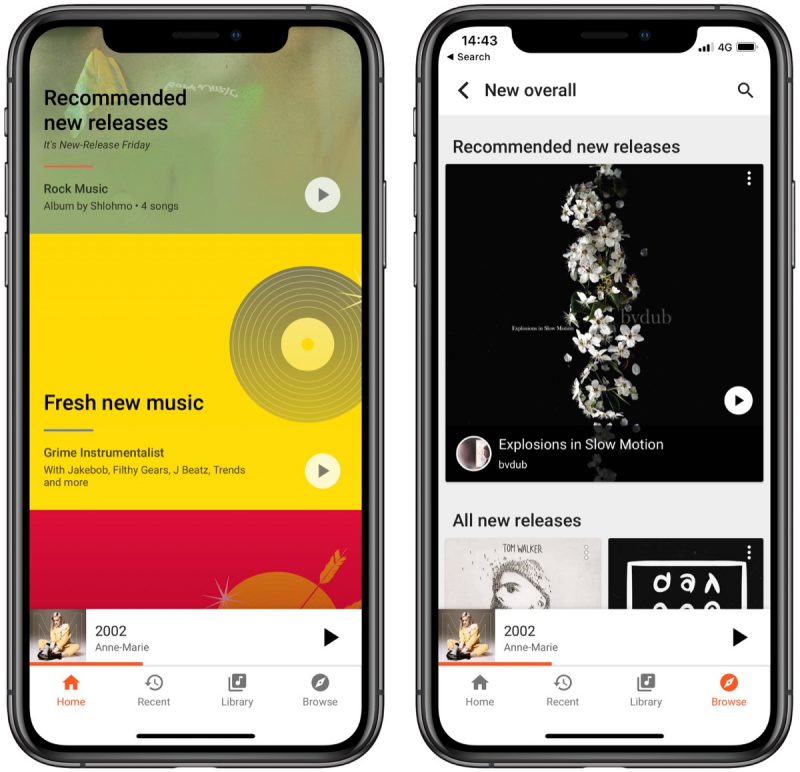 Google Play Music mobile app
Discovering new music isn't as straightforward in Google Play Music, especially when you first sign up. However, the Home tab soon starts to populate with personal album and playlist recommendations after you've spent some time liking/disliking songs in the media player, and if you sync existing music to your library, Google will use this to get a better idea of your tastes.
While Play Music's Home tab also features new releases and "Made for everyone" playlists categorized into genres and moods/activities, Apple Music's non-personalized content lives in a separate Browse tab showcasing trending artists and playlists, top charts, and music videos. Browse is also home to a TV and films section that features Apple-made programming like Carpool Karaoke and artist documentaries (Apple is currently investing heavily in programming, so expect more content to appear here in the coming months).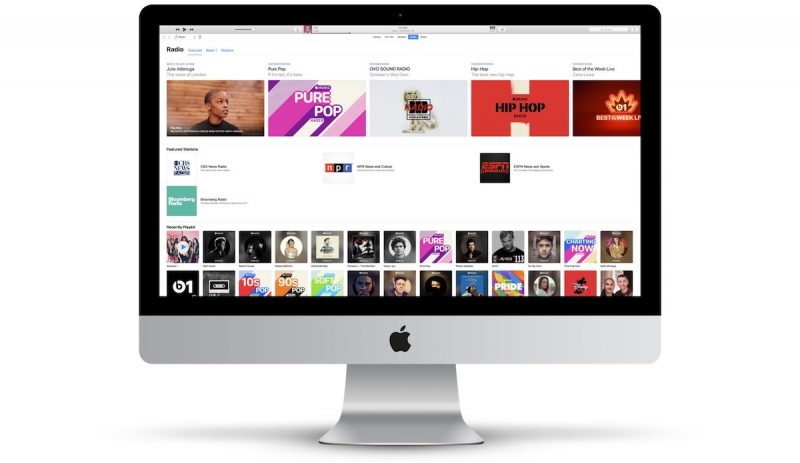 Apple Music's Radio tab features curated music stations tuned to your listening habits as well as Apple's Beats 1 radio station. Beats 1 offers live radio 24 hours a day, and also plays a big part in the platform's music discovery. The Radio tab also has an archive of its most popular radio shows and playlists from years past.
Google Play Music sideloads its Radio offering in the Browse tab under various categories including genres, activities, moods, and decades. The UI presentation is a little dull, but listening to Play Music's stations is probably the best way to encounter new content on the platform that you might like, and the more thumbs up/thumbs down you give to songs, the better Google's algorithms are at generating new music recommendations for you.
Music Sharing
Apple Music allows you to follow friends who are also subscribers and share playlists with them that you've personally created. Apple Music's For You tab will also show you what your friends are listening to if you've connected to them.
Google Play Music has no such social features, but it does let you share song links via text or over social media.
Speakers and Voice Assistants
As an Apple Music subscriber, you can use Siri as a personal DJ to control song playback, queue up songs, find song facts, add songs to your library, play your favorite playlists, or even play something new. This is a big advantage Apple Music has over Google Play Music, which requires a more complicated solution through Siri Shortcuts, and even then, it lacks many equivalent features.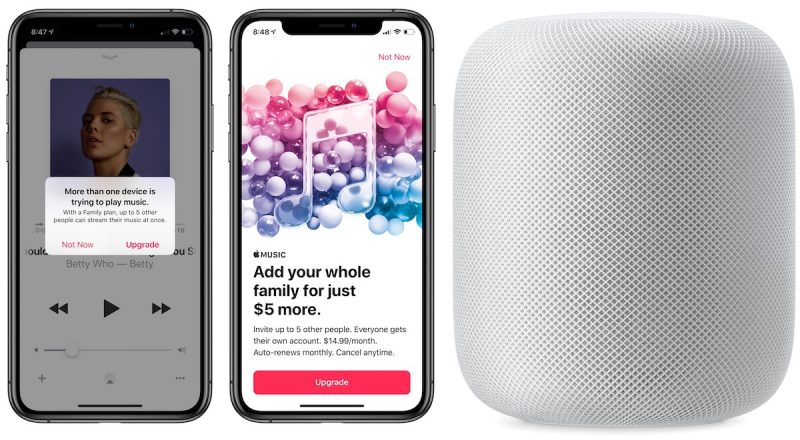 Apple's HomePod speaker is essentially made to be used in conjunction with Apple Music. In fact, one of the main uses for Siri on HomePod is to control your Apple Music collection. There are Siri voice commands for accessing content like playlists, genres, moods, liking or disliking songs, playing more music based on something you've heard, starting a new radio station, and much more. None of these functions will work with a Google Play Music subscription. You can stream audio to HomePod from a device running the Play Music app, but that's it.
If you own a Google Home speaker though, you're in luck. As you'd expect, Google's smart speakers fully integrate with Play Music, so you can invoke Google's voice assistant to carry out many of the same spoken commands mentioned above. Apple Music is not available as an integrated option on Google Home devices.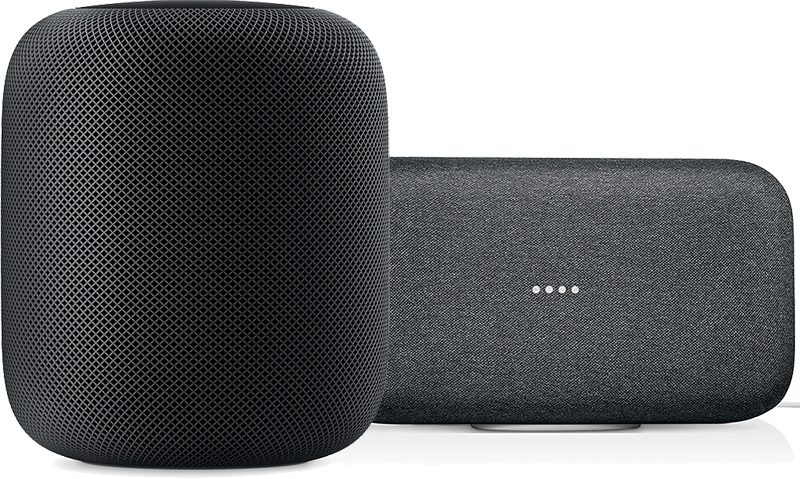 In addition, you can combine Google Play Music with the Google Assistant mobile app. When you do, Google Play Music combines your preferences with real-time information — like location, weather, and more — so that its voice assistant can recommend the right music for what you're doing, how you're feeling, or what you want to hear. However this does involve allowing Google access to a raft of privacy permissions on your mobile device, so you may want to think twice before you enable them.
Listening in the Car
Apple's CarPlay system supports Google Play Music and, of course, Apple Music. If a car doesn't have CarPlay, most newer models have their own entertainment systems, which often make it easy to connect your chosen streaming service. Usually you can do so either direct from a built-in app, over Bluetooth, or via a cable connection. You can also listen to Apple Music and Play Music music through your phone's or car's speakers with Android Auto.
Apple Music highlights
Seamless integration with Apple's eco-system
Beats live radio and archive
Human curated recommendations
Support for uploading/matching your own music files
Works natively with HomePod
Google Play Music highlights
Cloud storage for existing music library
Future uncertain with Google also offering YouTube Music
Excellent music suggestion algorithms
Summing Up
It's hard to predict how things will pan out for Google Play Music when the service inevitably migrates to YouTube Music Premium. Google has gone on record as saying that all of Play Music's features will survive the transition, but until it happens (perhaps in late 2019?) we won't know for sure what form they'll take. On that basis, Play Music is probably a good choice if you own Android devices and you're already a heavy user of Google and YouTube apps and services.
On the other hand, if you're invested in the Apple ecosystem (perhaps you own an Apple TV or a HomePod as well as an iPhone) then Apple Music is the clear winner. Apple's service is quicker off the mark with its music suggestions, offers a better user experience in the mobile app, and includes some neat social features, where Play Music virtually has none.
This article, "Apple Music vs. Google Play Music" first appeared on MacRumors.com
Discuss this article in our forums